I created the following presentation in its original form for a presentation at a ZVA meeting. I updated it with additional sources for inclusion on this web page.
Many years ago, the City of Regina created several booklets regarding Walking Tours of different historical areas of the city. I noted several Zichydorf names in the booklet on the Core Area, the aera just east of downtown. Assuming that these people were from Zichydorf, I set out to discover some of their histories. In the process, I learned that all is not what it seems.
I entered the following items in the order they appeared in the Core Area booklet, which included both Germantown and the General Hospital Area. Later versions separated these two areas.
In 1997 the City of Regina published a more extensive and detailed series called Regina's Heritage Tours. The booklet covering the same area was renamed "Germantown" – 11th Avenue East. This new version uses different numbering and includes several more locations.
In 2008 Edward Willet further expanded the walking tours in his book Historic Walks of Regina and Moose Jaw which included eight Regina walks, one of which is titled Germantown.
Core Area
The Core Area was formed in 1976 and includes both the Germantown Area and the General Hospital Area. Core Area is defined by the area bordered by South Railway Street (north) and College Avenue (south), and Broad Street (west) and Arcola Avenue and Winnipeg Street (east).
"Germantown" was a term commonly applied in the late 19th century to neighbourhoods with early residents of German descent. The German community had soon established a wide variety of religious and educational institutions and services in this area. Many members found employment as labourers, trades people and in the business sector, and were eventually able to accumulate sufficient resources to purchase their homes. Central and Eastern European immigrants, on the other hand, faced greater discrimination and fewer economic prospects in the pre-First World War period. Their involvement in civic affairs was impeded by property ownership qualifications that often rendered them ineligible to vote. Their low population level also inhibited the establishment of culturally distinct religious and secular organizations. However, this began to change with a second wave of immigration in the 1920s.
According to a 1913 survey sponsored by the Methodist and Presbyterian churches, this 33-square-block area contained 607 homes and 697 families. J.S. Woodsworth, who later became the first federal leader of the Co-operative Commonwealth Federation (CCF), conducted that survey. The majority of homes averaged less than three rooms and were crowded together on lots of 25 feet or less. Although water and sewer lines had been extended as far as Winnipeg Street, 60% of these dwellings were so poorly constructed that the necessary connections could not be made.
16. PHILIP BUSCH RESIDENCE 1871 ST. JOHN STREET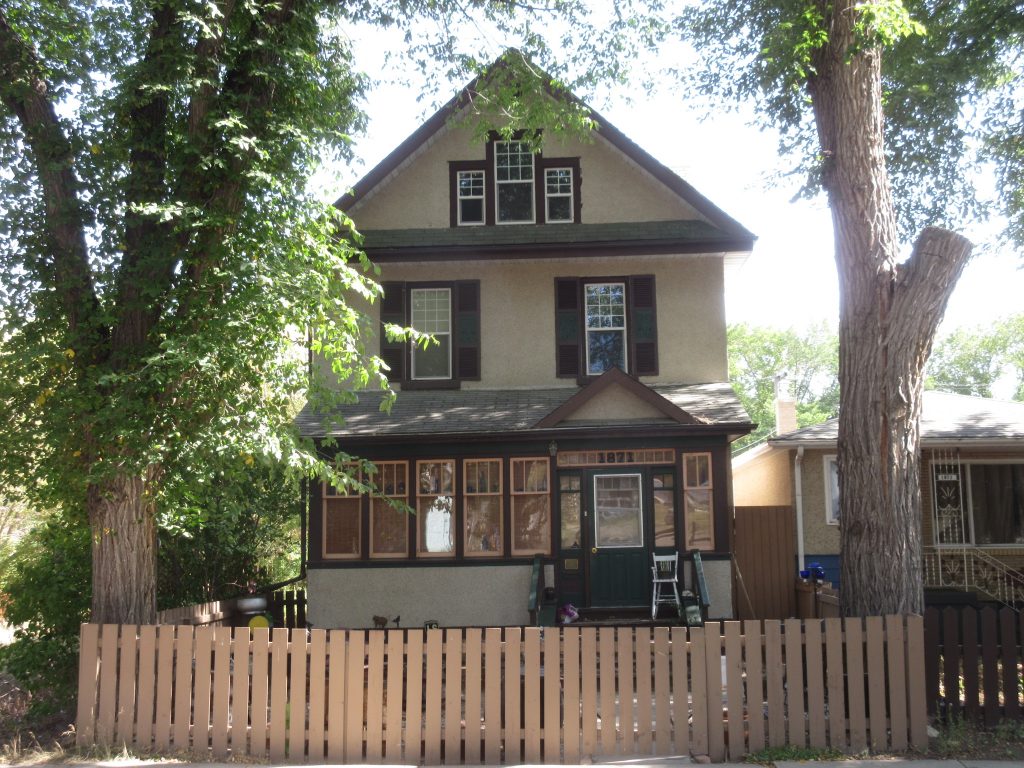 From Zichydorf Familienbuch:
Philipp Busch was born in 1873 and married Elisabeth Gluting in 1897, both events in Zichydorf. His parents were Josef Busch and Rosalia Zopf, both born in Zichydorf in 1825 and 1829 respectively. The family traces its roots back to Boglar, west of Budapest beginning in 1762. This branch first shows up in Zichydorf in 1819, although another branch was there earlier. Philipp died in 1966.
From City of Regina Core Area Walking Tour:
This 1913 house was built for carriage builder Philip Busch, who lived here until 1964. Busch came from Hungary in 1900 and established a carriage repair, woodworking and wheelwright shop, which he operated until 1946. He was also a member of the Regina Separate School Board for 14 years, served on the Civic Relief Board during the 1930s, and was a charter member of the German Canadian Club established in 1924, later renamed Victoria Hall in 1940 and presently known as the Victoria Club. This property features a third-storey Venetian window under the front gable, decorative shutters flanking the front second-storey windows, and a pediment dormer window on the south side of the roof.
17. SCHWANN TRADING CO. 1602 – 12th AVENUE
12th Avenue and Halifax Street
From the book Cornerstones 2 by William Argan with Pam Cowan, page 81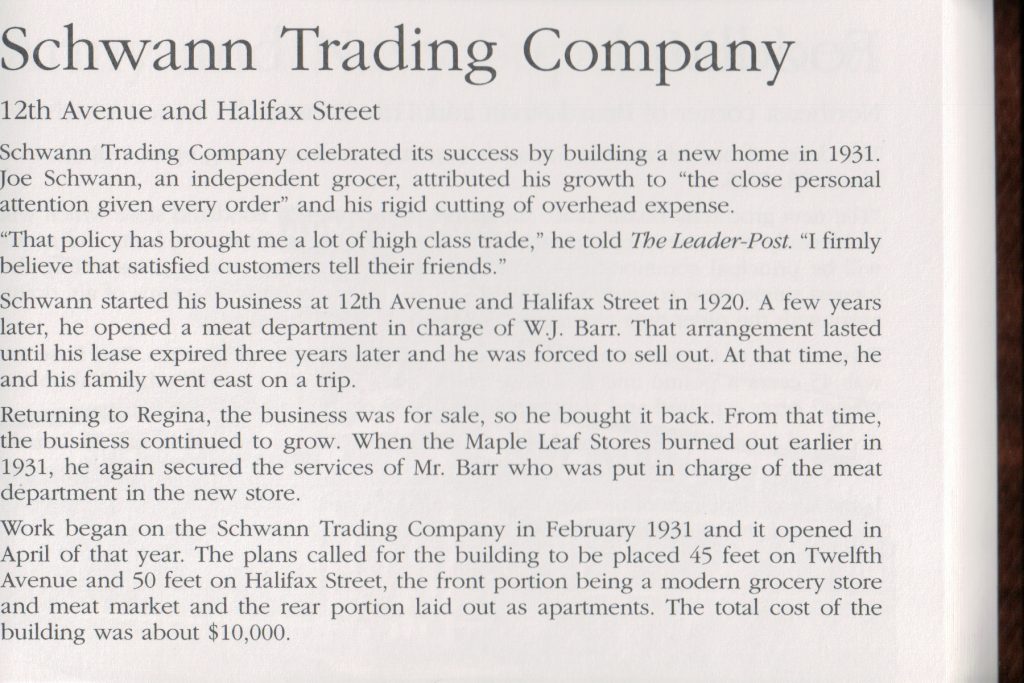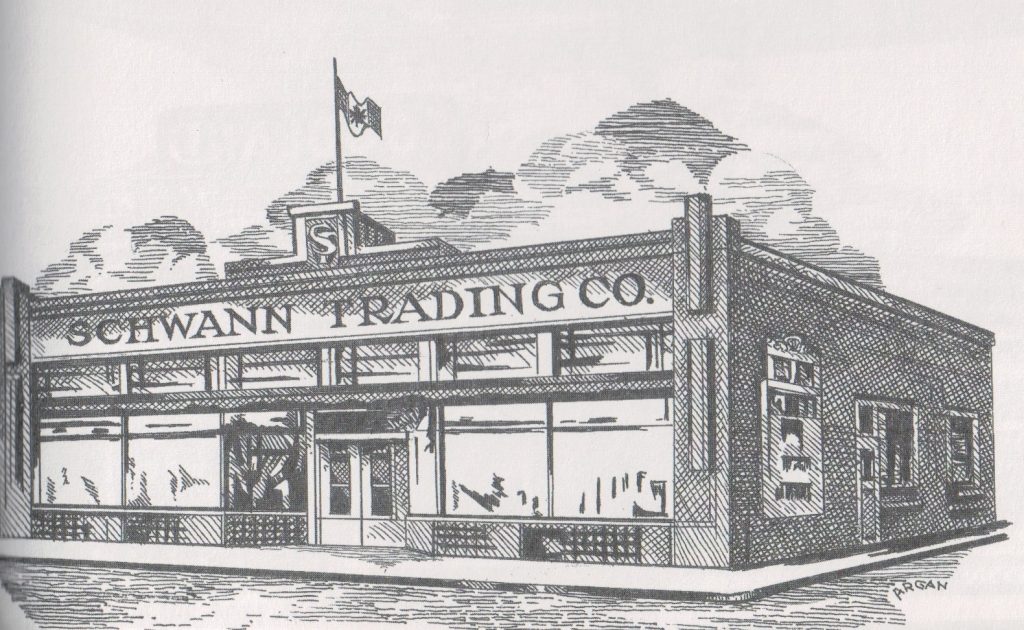 Schwann Store 1602 12th Avenue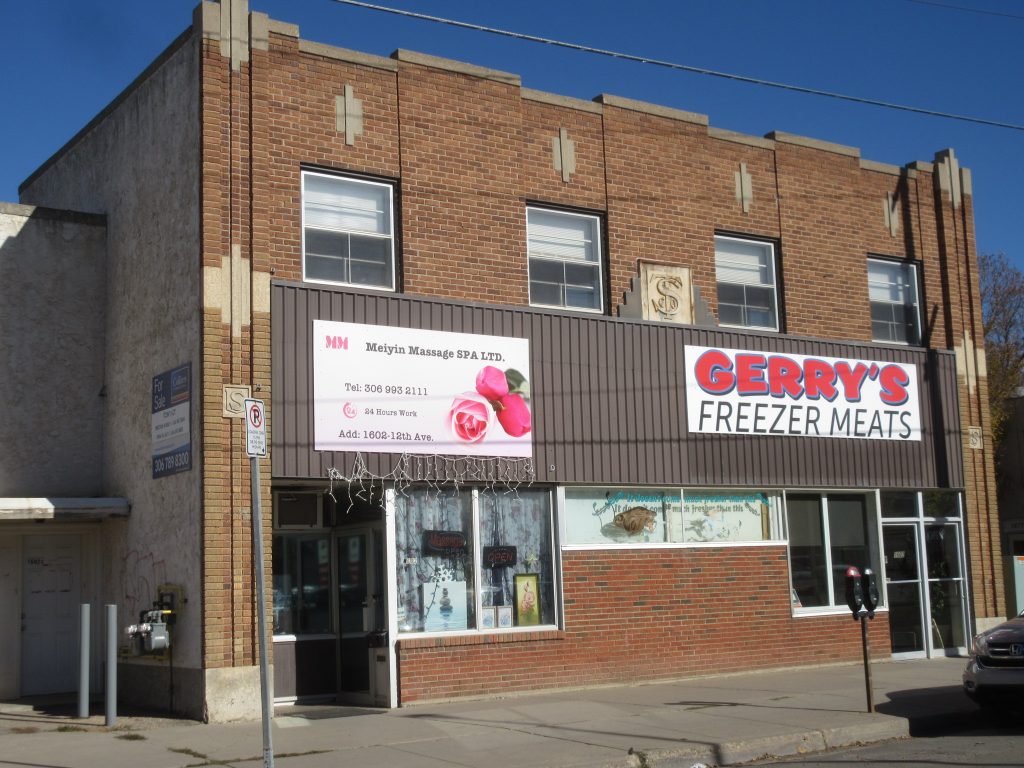 From the Zichydorf Familienbuch and research by Liz Grob and Tim Novak:
Joseph Schwann was one of 5 children born in Setschan to Josef Schwann and Katharina Weiner, both also of Setschan. He died in 1996 at age 101. His connection to Zichydorf is that his sister, Anna, married Anton Flichel. The Flichels came to Canada in 1914. I have not researched the details of the Schwanns.
There are some similarities between the scan from Cornerstones 2 and the picture of the building on that site today, the primary one being the stone medallion with the TS emblem. However, there are many differences, especially the added second story. It has clearly been extensively renovated.
From City of Regina Core Area Walking Tour:
This 1931 property was built for Joseph Schwann of the Schwann Trading Co., established in 1920. Schwann continued to take an active role in the business until 1971, when he retired and the business closed. His son Joseph also worked at the store and managed the operation for many years. After its closure, he joined the real estate and insurance firm of Campbell & Haliburton, where he served as general manager and property manager until his retirement in 1986. Another son, Gordon, maintained a dentistry practice in Regina for many years.
A third son, Paul, was a physician who specialized in sports medicine. He served as team doctor for the Saskatchewan Roughriders from 1959 until his death in 1974. He also worked with the Regina Rams junior football club for 10 years and with the football teams at O'Neill and Miller high schools. Prior to his career in medicine, Paul Schwann played football with the Regina Dales, the Regina Rams, and hockey with the Regina Pats. The University of Regina faculty of kinesiology and health studies named the Dr. Paul Schwann Applied Health & Research Centre after him.
The firm of Van Egmond & Storey designed this property in an Art Deco style. It features a decorative treatment of the pilasters at both ends of the front facade, matching stone accents centred on the recessed panels, and broad crenellation of the parapet wall articulated with stone caps. Also of note is the centred stone medallion, which bears the stylized initials of the company in low relief. This property has been on the Regina Heritage Holding Bylaw List since 1989.
34. NIKOLAUS MAYER RESIDENCE 1900 OTTAWA STREET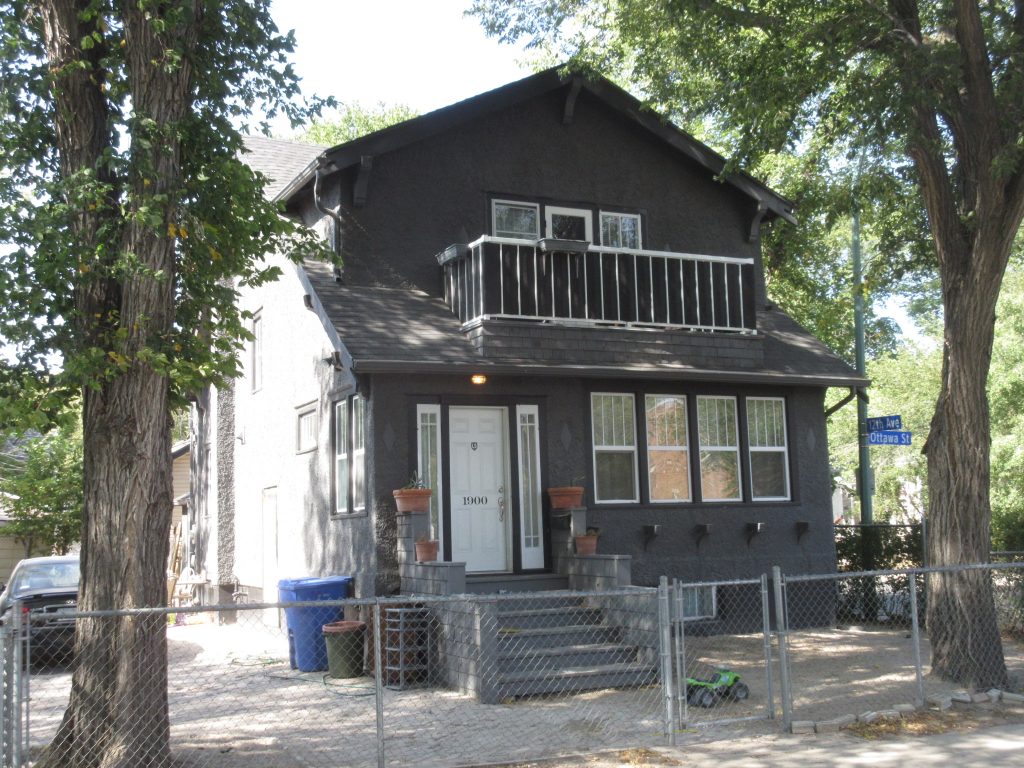 There were a few Nilolaus Mayers in Saskatchewan that came from Zichydorf. I thought for sure that this house must have belonged to one of them. However, that turned out not to be the case. I don't know who lived here, but I know who didn't.
Nikolaus Mayer, a master shoemaker, and Sabina Rist came to Canada from Zichydorf in 1899 with six children. Four more were born in Canada. They homesteaded ten miles southeast of Odessa. They resided on their homestead until their deaths in 1925 for Nik and 1932 for Sabine.
Their son, Nikolaus was born in 1885 in Zichydorf. He married Barbara Ortmann, born in Zichydorf in 1889. They were married in 1907 in Canada and farmed seven miles south of Kendal. In 1930 they moved to Francis, where they lived until Nikolaus passed away in 1958.
Another Nikolaus Mayer from Zichydorf came to Qu'Appelle in 1903 with his wife, Elisabeth Fleischhacker and several children. Nik was a first cousin to the Nikolaus who went to Odessa. This family homesteaded in the Horizon district in 1910. Most of this family later moved to the USA, including Nik and Elisabeth, who moved to Livingston, Montana, where Nik passed away in 1938.
These cousins trace their roots to Kirchenbollenbach in Germany, with a one-generation stopover in Hatzfeld before moving on to Zichydorf.
From City of Regina Core Area Walking Tour:
This 1927 house was built for Nicholas Mayer, a machine operator with the Western Manufacturing Co., who lived here until 1942. It features a large gable-roofed projection with brackets, fronted with an open deck. The stucco facing of the house is adorned with diamond shapes. This property has been on the Regina Heritage Holding Bylaw List since 1989
41. JACOB TELL RESIDENCE 1752 TORONTO STREET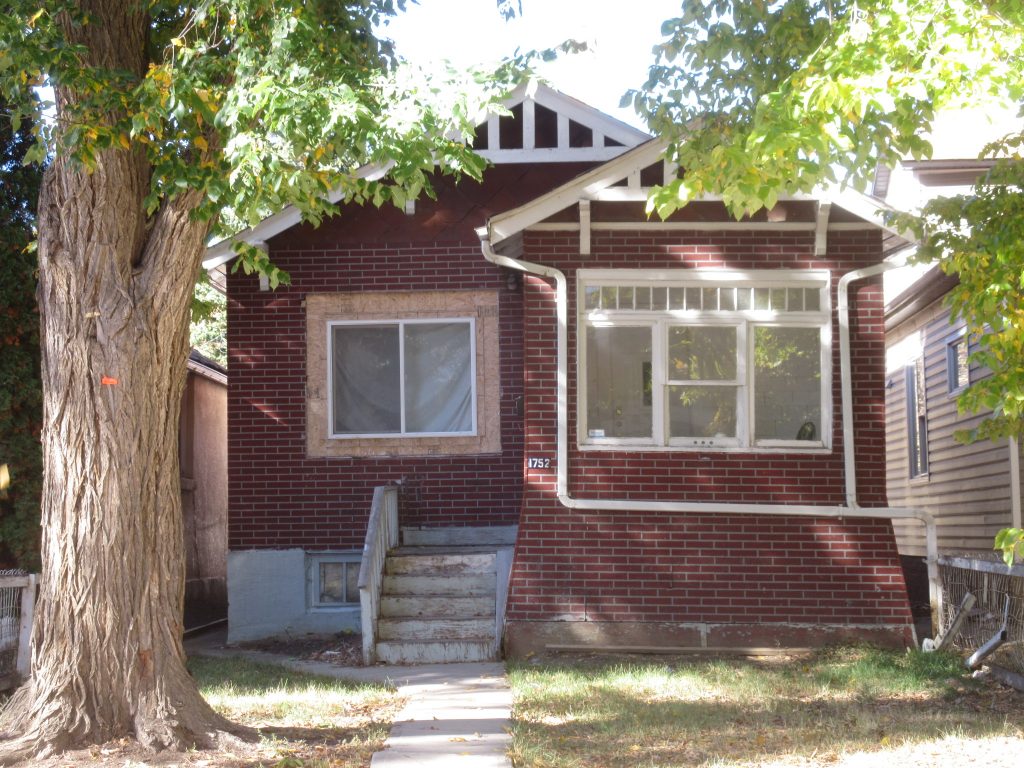 From a book about several Regina businesses:
Jacob and Magdalena Tell came to Regina in 1903 with children Adam and Barbara. Daughter Annie was born three years later. Jacob was a drayman, delivering coal to homes, as well as working as a teamster for the City of Regina. In his back yard, he also made concrete blocks which he sold while delivering coal. In 1930 he bought a machine to speed the brick-making process and leased land at Arcola Ave. and Atkinson St. for a plant.
Jacob and son Adam recognized an opportunity by incorporating waste ashes from burned railway coal into their concrete blocks, making them much lighter, and Cindercrete Products was born. In 1951 Adam left his job and joined Cindercrete full time. Adam's son, Bill, opened a Saskatoon branch in 1954 and, in 1958, another son, Jerry, left the Royal Bank and joined the business in Regina full time. In 1962 the business moved to Victoria Ave. and Fleet St.
By this time railways were converting to diesel engines and the source of free cinders was drying up. The North American industry found another source of lightweight filler material by mining and baking clay. The Regina plant began using this process in 1968.
In the 1980s and 1990s the company made acquisitions in the concrete block and redi-mix concrete businesses. In the 1990s the company centralized its production in Saskatoon and built a new distribution facility near White City in 1992, leaving it with a large piece of vacant industrial land in Regina. No developers wanted to take on the task of reclaiming the land, so they redeveloped it themselves, selling some for the Costco store and developing the Riverbend subdivision themselves.
Jacob died at age 88 in 1959. Adam died in 1972 at age 75. Bill left the business in the early 1990s, leaving Jerry in charge. Jerry's son, Kevin, came on board in 1984 and rose through the ranks to lead the company today. Jerry passed away in 2017 and Kevin in 2022.
Another recognizable family member is Jerry's daughter and Kevin's sister, Christine, who was a Regina police officer, president of the police union, then a minister in the Saskatchewan Party government.
From City of Regina Core Area Walking Tour:
This 1912 house was built for Jacob Tell, who lived here with his wife Lena until 1957. Tell immigrated to Canada in 1903. He was a city teamster until he retired in 1930. Eight years later, however, he joined his son Adam in establishing Cindercrete Products Co. and remained with the firm until 1945. Adam Tell was employed with the Imperial Oil refinery from 1915 to 1943. He lived next door to his parents from 1920 to 1937. Active in the community, he served on the executive of the East Side Softball League and the local ratepayers' association, belonged to the Knights of Columbus and the Regina Golf Club, and was a life member of the Victoria Club. This property is faced with mock brick siding. Note the fishscale shingles.
42. JAMES NOVAK RESIDENCE 1724 TORONTO STREET
No picture: House is no longer there.
The original owner of this house, James Novak does not appear to be a Zichydorfer. And James is not a normal German name.
From City of Regina Core Area Walking Tour:
This 1907 property was built for James Novak. The next occupants were William Melnyk and his wife Kate, who acquired the property in 1921. Members of the Melnyk family lived here until 1990. The open-front veranda features delicately turned support posts.
43. GEORG TURK RESIDENCE 1704 TORONTO STREET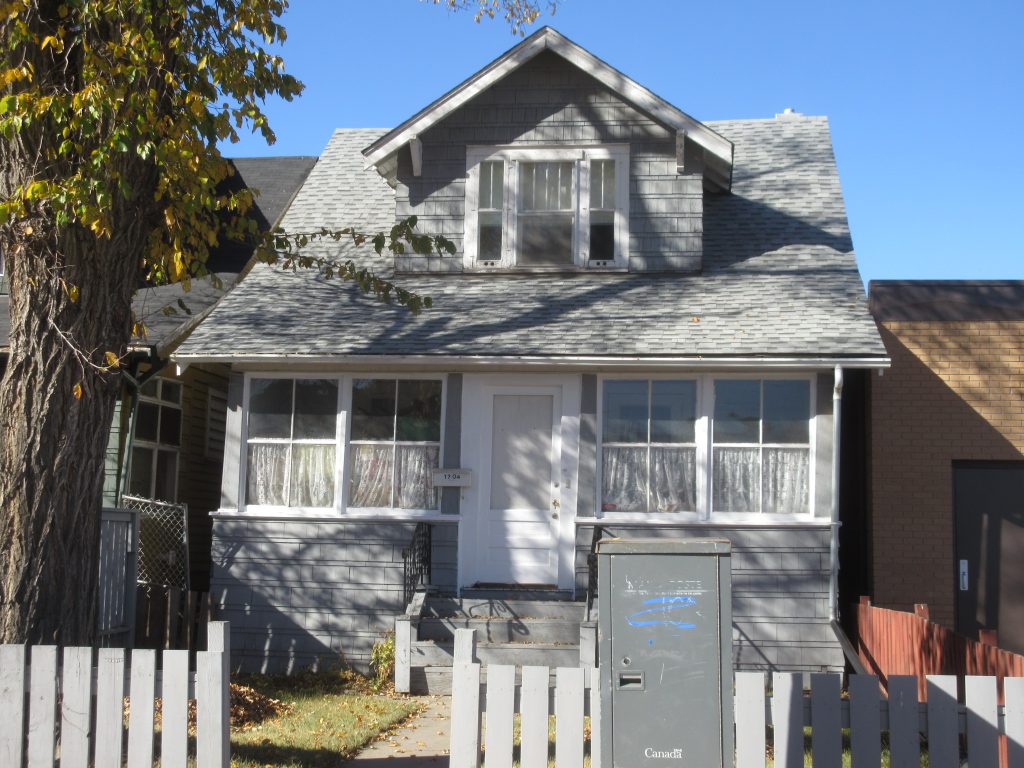 There were Türk families in Zichydorf and it was the maiden name of one of my Grandma's best friends. However, I was not able to confirm that the owner of this house belonged to this Zichydorf family.
In the Zichydorf Familienbuch, there is a Georg Türk, son of Johann, born in 1884 and married to Katharina Niedermayer in 1908. They had a son, Georg, born in 1908 and died in 1909, both events in Zichydorf. No other events are recorded for this family. It is possible that this is the right family, except that the wife in the write-up is named Anna. However, she could be a second wife. There are also two sons who would have to have been born in 1909 or later and probably in Canada.
There is also a Georg Türk, son of Nikolaus, born in 1877, but no further information about marriage or death is given. He could be another possibility. More research would be needed to confirm either of these families.
From City of Regina Core Area Walking Tour:
This 1924 house was built for city teamster George Turk. After his death in 1929, his wife Anna and sons Joseph and Nicholas lived here, as well as at the former residence located at 1702 Toronto Street, on an intermittent basis until 1949. Nicholas Turk established an automobile garage on the latter property in 1932, which he operated until 1946
49. MICHAEL KLEISINGER RESIDENCE 1951 MONTREAL STREET
This house is no longer standing.
I thought this one was a slam-dunk to prove its Zichydorf connection, but not so. I thought all the Kleisingers in Regina were Zichydorfers, but I could not find one to fit this profile. I know of two Kleisinger families in Regina, headed by first cousins. Both trace their roots back to Nitzkydorf in Banat with a detour through Ernsthausen to Georgshausen. One cousin was Heinrich; the other was Joseph. Joseph was the one who started Kleisinger Hall, which became the German-Canadian Club and, later, the Victoria Club. He had a son named Michael in 1904, but neither family had a Michael who would have built a house in 1910, as described below.
Another possibility is a more distant cousin named Michael, born in 1892 in Zichydorf, but this is still a bit of a stretch. This family also came from Nitzkydorf via Ernsthausen.
From City of Regina Core Area Walking Tour:
This 1910 house was built by Michael Kleisinger. It is notable for the absence of a front veranda, although the broad, flat-surfaced panel above the front door and windows suggests the former presence of such an architectural element.
50. BUSCH RESIDENCE 1961 MONTREAL STREET
Frank was the oldest of Joseph Busch's twelve children. This house is no longer standing.
From City of Regina Core Area Walking Tour:
This 1910 Cube style house was built for Frank Busch, who lived here from 1935 to 1937. Busch was employed at his father's carriage enterprises for many years, before assuming a janitorial position at the Dominion Government Building in 1937. He served on the Regina Separate School Board for twelve years. His widowed sister-in-law, Caroline Busch, lived here from 1937 to 1941. Other examples of this design still stand in the area, but this house appears to be the best preserved.